Powersports & Outdoor Shows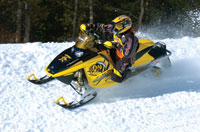 ATVs, snowmobiles and ice fishing; we have a show for everyone who has a passion for the outdoors. Come see the newest, hottest, most innovative products. Buy the latest gear. Shop and compare dozens of dealers and hundreds of products at one time, in one convenient location.
We'd love to have you join us for one of our powersports or outdoor shows. See our current show below or Find A Show nearest you. If you don't see one in your hometown, check back with us. We're adding shows all the time.
Upcoming Shows
Please check back for upcoming shows.