Show Info
April 10 - 12, 2015
Rhode Island Convention Center
1 Sabin Street
Providence, RI 02903
Show Hours
Friday: 1 pm – 9 pm
Saturday: 11 am – 9 pm
Sunday: 11 am – 5 pm
Ticket Prices
Adults: $10
Kids 12 - 17: $7
Kids 11 and under: FREE
Good Sam Club Members: $5*
*Maximum 2 tickets - Active Membership Card required. Offer not valid or combinable with any other discounts.
Not A Good Sam Club Member?
Purchase a 1-year membership for just
$25 & enjoy all the exciting Club benefits,
including 50% savings on up to
2 RV show tickets!
Date Night
Friday AFTER 5:00PM
Buy one adult ticket, get one FREE!
Must be purchased at the show. Cannot be combined with any other discounts.
SAVE TIME - PURCHASE YOUR TICKETS ONLINE!
22nd Annual Rhode Island RV & Camping Show & Sale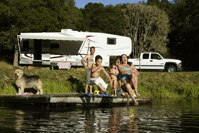 FAMILY FUN STARTS HERE!
New England's Premier,
Hassle-Free RV Show!
Don't Miss Out on The Best Opportunity To Buy An RV!
Come to the 22nd Annual Rhode Island RV Camping Show & Sale to begin planning your camping vacations for the coming season, trade-up to your dream RV, see the new 2015 RVs or just learn about the joys of travel in a recreational vehicle at the RV & Camping Show!
What's Your Pleasure?
You'll find it at the Rhode Island RV & Camping Show – from class A, B and C motorhomes, travel trailers, fifth-wheels and folding campers, to RV accessories, camping resorts and much more!
---
Campgrounds from Throughout The Northeast
Are you setting your sights on traveling throughout the Northeast this upcoming season? Or are you planning on finding a nice place to settle in for the summer? Whatever you're plans are you'll find top-notch family camping resorts at the show.
Many of our campgrounds offer overnight camping by the day, week month, or season. So, if you're thinking about the mountains - you'll find it here, the beaches - you'll find that too. What about something in Lancaster PA - information about campgrounds from the area is available as well.
The best thing about an RV & Camping Show is that you can meet the people you'll be staying with in person and that's important!
---
Seminar Schedule
Location: Seminar Stage
***SCHEDULE SUBJECT TO CHANGE***
Time
Topic
Speaker
Friday, April 10, 2015
Show Hours: 1:00pm-9:00pm
3:00pm
Properly Matching Trucks
& Trailers/5th Wheels
Walter Cannon Executive Director
RV Safety & Education Foundation
5:00pm
RVing - What It's All About
Walter Cannon Executive Director
RV Safety & Education Foundation
7:00pm
RV Weight & Tire Safety
Walter Cannon Executive Director
RV Safety & Education Foundation
Saturday, April 11, 2015
Show Hours: 11:00am-9:00pm
1:00pm
Properly Matching Trucks
& Trailers/5th Wheels
Walter Cannon Executive Director
RV Safety & Education Foundation
3:00pm
RVing - What It's All About
Walter Cannon Executive Director
RV Safety & Education Foundation
5:00pm
RV Weight & Tire Safety
Walter Cannon Executive Director
RV Safety & Education Foundation
7:00pm
RVing - What It's All About
Walter Cannon Executive Director
RV Safety & Education Foundation
Sunday, April 12, 2015
Show Hours: 11:00am-5:00pm
1:00pm
Properly Matching Trucks
& Trailers/5th Wheels
Walter Cannon Executive Director
RV Safety & Education Foundation
3:00pm
RV Weight & Tire Safety
Walter Cannon Executive Director
RV Safety & Education Foundation
---