Show Info
February 13 - 16, 2015
Atlantic City Convention Center
One Convention Blvd.
Atlantic City, NJ 08401
Show Hours
Friday: Noon – 8 pm
Saturday: 10 am – 8 pm
Sunday: 11 am – 5 pm
Monday: 10 am - 4 pm
Ticket Prices
Adults: $12
Kids 12 and under: FREE
Good Sam Club Members: $6*
*Maximum 2 tickets - Active Membership Card required. Offer not combinable with other discounts.
Not A Good Sam Club Member?
Purchase a 1-year membership for just
$25 & enjoy all the exciting Club benefits,
including 50% savings on up to
2 RV show tickets!
Date Night
Friday AFTER 5:00PM
Buy one adult ticket, get one FREE!
Must be purchased at show. Cannot be combined with other discounts.
SAVE TIME-PURCHASE YOUR TICKETS ONLINE!
20th Annual Atlantic City RV & Camping Show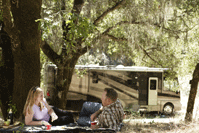 The Best Opportunity
To Buy An RV!
Come to the 20th Annual Atlantic City RV & Camping Show and begin planning your camping vacations for the coming season, trade-up to your dream RV, see the latest RVs, or just learn about the joys of travel in a recreational vehicle.
What's Your Pleasure?
You'll find it at the Atlantic City RV Show – from class A, B and C motorhomes, travel trailers, fifth-wheels, folding campers and park models, to accessories, services, camping resorts and much more!
---
Campgrounds from Throughout The Northeast
Are you setting your sights on traveling throughout the Northeast this upcoming season? Or are you planning on finding a nice place to settle in for the summer? Whatever you're plans are you'll find top-notch family camping resorts at the show.
Many of our campgrounds offer overnight camping by the day, week, month or season. Whether you're thinking about the mountains, the beaches, or something nearby in Lancaster, PA – you'll find it here.
The best thing about an RV Show is that you can meet the people you'll be staying with in person and that's important!
---
Seminar Schedule
Location: Seminar Stage
***SCHEDULE SUBJECT TO CHANGE***
Time
Topic
Speaker
Friday, February 13, 2015
Show Hours: Noon-8:00pm
1:00pm
What is the
Girl Camping Movement
Janine Pettit - Girl Camper
Going Places, Doing Things
2:00pm
Properly Matching Trucks
& Trailers/5th Wheels
Walter Cannon Executive Director
RV Safety & Education Foundation
3:00pm
10 Reasons Why
RV Vacations are Better
Stephanie & Jeremy Puglisi
RV Family Travelers
4:00pm
RVing - What It's All About
Walter Cannon Executive Director
RV Safety & Education Foundation
5:00pm
Girl Campers: Who are they
& What are they Towing
Janine Pettit - Girl Camper
Going Places, Doing Things
6:00pm
RV Family Adventure
Guide to Acadia National Park
Stephanie & Jeremy Puglisi
RV Family Travelers
Saturday, February 14, 2015
Show Hours: 10:00am-8:00pm
11:00am
RVing - What It's All About
Walter Cannon Executive Director
RV Safety & Education Foundation
1:00pm
What is the
Girl Camping Movement
Janine Pettit - Girl Camper
Going Places, Doing Things
3:00pm
RV Weight & Tire Safety
Walter Cannon Executive Director
RV Safety & Education Foundation
4:00pm
Tips & Tricks for
RVing with Kids
Stephanie & Jeremy Puglisi
RV Family Travelers
5:00pm
Properly Matching Trucks
& Trailers/5th Wheels
Walter Cannon Executive Director
RV Safety & Education Foundation
6:30pm
10 Reasons Why
RV Vacations are Better
Stephanie & Jeremy Puglisi
RV Family Travelers
Sunday, February 15, 2015
Show Hours: 11:00am-5:00pm
11:30am
Who are the Girl Campers
Janine Pettit - Girl Camper
Going Places, Doing Things
1:00pm
RVing - What It's All About
Walter Cannon Executive Director
RV Safety & Education Foundation
2:30pm
Tips & Tricks for
RVing with Kids
Stephanie & Jeremy Puglisi
RV Family Travelers
4:00pm
Properly Matching Trucks
& Trailers/5th Wheels
Walter Cannon Executive Director
RV Safety & Education Foundation
Monday, February 16, 2015
Show Hours: 10:00am-4:00pm
10:30am
10 Reasons Why
RV Vacations are Better
Stephanie & Jeremy Puglisi
RV Family Travelers
Noon
Properly Matching Trucks
& Trailers/5th Wheels
Walter Cannon Executive Director
RV Safety & Education Foundation
1:30pm
RV Family Adventure
Guide to Acadia National Park
Stephanie & Jeremy Puglisi
RV Family Travelers
3:00pm
RV Weight & Tire Safety
Walter Cannon Executive Director
RV Safety & Education Foundation
---
For Bulk Space or Sponsorships
Anthony Tedesco 804-243-8847
email: anthony.tedesco@goodsam.com.

For Booth Information
Marybeth Tedesco 804-337-8463
email: mary.tedesco@goodsam.com
---