Show Info
February 20 - 22, 2015
Richmond Raceway Complex
600 East Laburnum Avenue
Richmond, VA 23222
Show Hours
Friday: Noon – 8 pm
Saturday: 10 am – 7 pm
Sunday: 11 am – 5 pm
Ticket Prices
Adults: $10
Kids 16 and under: FREE
Date Night
Friday AFTER 5:00PM
Buy one adult ticket, get one FREE!
Must be purchased at the show. Cannot be combined with any other discounts.
SAVE TIME - PURCHASE YOUR TICKETS ONLINE!
CASH ONLY AT BOX OFFICE

FREE PARKING
27th Annual Richmond Boat Show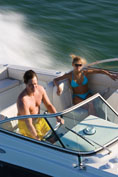 EVERYTHING YOU NEED
TO HIT THE WATER!
For years the Richmond Boat Show has been
recognized as one of the best boat shows in Central Virginia. Covering nearly 110,000 square feet in four buildings, it attracts dealers from throughout Virginia. Boats on display from 18 dealers include runabouts, saltwater fishing boats, ski boats, pontoon boats, deck boats, jet boats, PWCs, motor yachts and bass boats. Additional exhibits include boat lifts, floating docks, marine electronics, water sports and safety equipment. Experts will be on hand to give information and answer questions about marinas, financing, insurance, boat maintenance and repair and boating safety.
---
SPECIAL APPEARANCE BY CHAD SHARPE!
If you are interested in wakeboarding and everything that goes with it, stop by the WakeEdgers display and see Ronix and Malibu Team rider Chad Sharpe. Chad will be at the WakeEdgers display all weekend signing autographs and posing for pictures. You can also get the latest info from Ronix WakeBoards, gear from WakeEdgers and The Malibu and Axis lines of boats. Chad's appearance is sponsored by Ronix Wakeboards, WakeEdger's Gear & Gifts, Malibu Boats and Centerville Marina.
---
Fun for ALL Ages


Kids will love the RV Show too!
Check out the balloon artistry of Jenn B.
Watch her create her balloon art
Saturday from 10am - 6 pm.
---
For Bulk Space:
Dave Body 804-337-6479
email: dave.body@goodsam.com

For Booth Information:
Joe Edwards 804-337-8931
email: joe.edwards@goodsam.com
---
The Richmond Boat Show is held at the Richmond Raceway Complex. Simple to find and with acres of free parking, this suburban facility makes coming to the Richmond Boat Show easy and fun.

Richmond Raceway Complex
600 E. Laburnum Avenue
Richmond VA 23222

DIRECTIONS