Show Info
December 4 - 6, 2015
St. Paul RiverCentre
175 Kellogg Boulevard West
St. Paul, MN 55102
Show Hours
Friday: 1 pm – 9 pm
Saturday: 8 am – 7 pm
Sunday: 10 am – 5 pm
Ticket Prices
Adults: $9
Kids 6 - 12: $5
Kids 5 and Under: Free
Coupons
Get a $1 off adult admission coupon (printer is required for coupon)
>> Click Here
23rd Annual St. Paul Ice Fishing & Winter Sports Show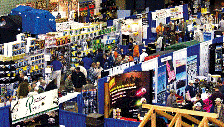 The LARGEST Ice Fishing
Show in the Country!
Join us at the St. Paul RiverCentre to shop more than 190 exhibits with products and services dedicated to the die-hard ice fishing and winter sports enthusiast. View all new ice fishing products, including fish houses, augers, underwater cameras, digital fish finders, rods and reels, tackle, accessories, apparel and much more!
The show will feature all new merchandise at a variety of price points to fit any budget. Whether you are an avid fisherman looking for a few new accessories, an experienced angler in need of an upgrade, or totally new to the ice fishing scene, you will find what you are looking for at this show!
---
Seminar Schedule
Location: Seminar Stage
***SCHEDULE SUBJECT TO CHANGE***
Time:
Topic
Guest Speaker
Friday, December 4, 2015
Show Hours: 1:00pm-9:00pm
2:00pm
Walleye On-Ice
Tackle Terry Tuma
3:00pm
Jig with a Kick
Dave Genz
4:00pm
Big Fish, From Big Water
Chris Granrud
5:00pm
Panfish: Finesse vs. Power Fishing
Jason Mitchell
6:00pm
Ice Team Panel
Q&A with Ice Team Pros
7:00pm
When to Stay, When to Go
Nate Zelinsky
Saturday, December 5, 2015
Show Hours: 8:00am-7:00pm
9:00am
Fishing the Jungle:
Targeting Weeds
Tod Todd/Rod Woten
10:00am
Power Fishing Walleyes
Jason Hamilton
11:00am
Picking Apart Structure for Success
Matt Breuer
12:00pm
Ice Formulas for Panfish
Tackle Terry Tuma
1:00pm
One-Two Punch for Perch and Walleye
Scott Seibert/Shelly Holland
2:00pm
Jig with a Kick
Dave Genz
3:00pm
Ice Team Panel
Q&A with Ice Team Pros
4:00pm
Trophy Tip-Up Tactics
Jeff Andersen/Pat Kalmerton
5:00pm
Simple Steps for More Panfish
Jason Durham
6:00pm
Exotic Tactics:
6 Hot Tips to Catch More Fish
Kevan Paul/Tim Moore
Sunday, December 6, 2015
Show Hours: 10:00am-5:00pm
11:00am
Women On Ice
Barb Carey
12:00pm
Ice Team Panel
Q&A with Ice Team Pros
1:00pm
Kids and Family
Jason Durham/Chris Granrud
2:00pm
Panfish: Finesse vs. Power Fishing
Jason Mitchell
3:00pm
Trout Fishing 101
Bernie Keefe/Craig Oyler
---
World Famous Balloon Stunt Show
Featuring James Johnson
Fun for kids of all ages! Don't miss James Johnson and his world famous balloon show! He dazzles audiences by inviting people inside a giant balloon. On top of this fantastic show he also delivers comedy with magical effects. He will entertain you from the minute his performance begins to when it ends. Click here to see some awesome photos of his balloon magic!
---
For Exhibit Space or Sponsorships
Ryan Reinke 612-695-3219
email: ryan.reinke@goodsam.com

For Operations/Logistic Questions
Laurie Hallowell 612-845-5336
email: laurie.hallowell@goodsam.com
---