Show Info
February 23 - 26, 2017
PA Farm Show Complex & Expo Center
2300 N. Cameron Street
Harrisburg, PA 17110
Show Hours
Thursday: 12:00 pm - 7:00 pm
Friday: 12:00 pm - 7:00 pm
Saturday: 9:00 am - 6:00 pm
Sunday:9:00 am – 3:00 pm
Ticket Prices
Adults: $10
Kids 12 and under: FREE
Good Sam Club Members: $5*
*Maximum 2 tickets - Active Membership Card required. Offer not valid or combinable with any other discounts.
Not A Good Sam Club Member?
Purchase a 1-year membership for just
$27 & enjoy all the exciting Club benefits,
including 50% savings on up to
2 RV show tickets!
SAVE TIME - PURCHASE YOUR TICKETS ONLINE!
Harrisburg RV & Camping Show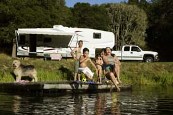 This is THE show for RV Enthusiasts! The area's major RV Dealers will display a huge variety of motorhomes, travel trailers, fifth wheels and more....all at show special prices! This show is the "go-to place" to begin planning your camping vacations for the coming season, trading up to your dream RV, seeing the new 2017 RVs, or just learning about the joys of travel in a recreational vehicle!
New RVers or those old hands at traveling the RV high road will discover this is the ideal show to learn about new RV products, campgrounds, travel destinations and the RV lifestyle.
Check out everything from luxurious high-line motor homes to folding campers, travel trailers to fifth wheels, Class C motor homes to camper vans and everything in between. You can also visit with the regions highest rated campgrounds to plan your family's 2017 RV travel.
Are you setting your sight on traveling throughout the Northeast this upcoming season or are you planning on finding a nice place to settle in for the summer? Whatever you're plans are you'll find top-notch family camping resorts at the show.

---
ENTER TO WIN
a 2017 Coleman Travel Trailer!

---
Seminar Schedule
Location: Seminar Stage
***SCHEDULE SUBJECT TO CHANGE***
Time:
Topic
Guest Speaker
Thursday, February 23, 2017
Show Hours: Noon - 7:00pm
12:30pm
Make RV Play Pay
Bernie Jwaszewski, Streamline Travel Videos
2:00pm
Graveyard of the Atlantic; North Carolona's Outer Banks
Bernie Jwaszewski, Streamline Travel Videos
3:30pm
Glacier's Going-To-The-Sun Road
Bernie Jwaszewski, Streamline Travel Videos
5:00pm
Make RV Play Pay
Bernie Jwaszewski, Streamline Travel Videos
Friday, February 24, 2017
Show Hours: Noon - 7:00pm
12:30pm
Make RV Play Pay
Bernie Jwaszewski, Streamline Travel Videos
2:00pm
Graveyard of the Atlantic; North Carolona's Outer Banks
Bernie Jwaszewski, Streamline Travel Videos
3:30pm
Glacier's Going-To-The-Sun Road
Bernie Jwaszewski, Streamline Travel Videos
5:00pm
Make RV Play Pay
Bernie Jwaszewski, Streamline Travel Videos
Saturday, February 25, 2017
Show Hours: 9:00am - 6:00pm
10:00am
Make RV Play Pay
Bernie Jwaszewski, Streamline Travel Videos
12:30pm
Graveyard of the Atlantic; North Carolona's Outer Banks
Bernie Jwaszewski, Streamline Travel Videos
2:00pm
Glacier's Going-To-The-Sun Road
Bernie Jwaszewski, Streamline Travel Videos
3:30pm
Make RV Play Pay
Bernie Jwaszewski, Streamline Travel Videos
Sunday, February 26, 2017
Show Hours: 9:00am - 3:00pm
10:00am
Graveyard of the Atlantic; North Carolona's Outer Banks
Bernie Jwaszewski, Streamline Travel Videos
1:00pm
Make RV Play Pay
Bernie Jwaszewski, Streamline Travel Videos
---
For Bulk Space:
Dave Body 804-337-6479
email: dave.body@goodsam.com

For Booth Information
Marybeth Tedesco 804-337-8463
email: mary.tedesco@goodsam.com