Show Info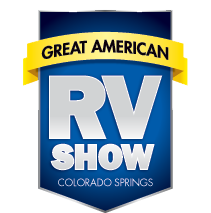 September 28 - 30, 2017
Norris Penrose Event Center
1045 Lower Gold Camp Rd.
Colorado Springs, CO 80905
Show Hours
Thursday: 10:00 am - 6:00 pm
Friday: 10:00 am - 6:00 pm
Saturday: 10:00 am – 6:00 pm
Ticket Prices
$5 per carload!
CASH ONLY
Exhibitors
Norris Penrose Event Center
September 28 - 30, 2017
Colorado Springs, CO
Show Hours:
Thursday: 10:00 am - 6:00 pm
Friday: 10:00 am - 6:00 pm
Saturday: 10:00 am – 6:00 pm
Add the Great American RV Show - Colorado Springs to your 2017 marketing plan.
Apply for your exhibit space today!
Why? Because you can interact with prospects and customers face-to-face.
Also, check out additional sponsorship opportunities for increased access to the show visitors.
---
For Bulk Exhibit Space or Sponsorship information
Vilma Fraguada 847-229-6730
email: vilma.fraguada@goodsam.com

For Booth Exhibit Space
Chris Hamilton 847-229-6731
email:chris.hamilton@goodsam.com