Show Info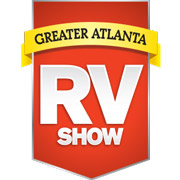 January 5 - 7, 2018
Georgia International Convention Center
285 Andrew Young Int'l Blvd NW
Building A
Atlanta, GA 30313
Show Hours
Friday: Noon – 8 pm
Saturday: 10 am – 8 pm
Sunday: 10 am – 5 pm
Ticket Prices
Adults: $10
Kids 12 and under: FREE
Good Sam Club Members: $5*
*Maximum 2 tickets - Active Membership Card required. Offer not valid or combinable with any other discounts.
Not A Good Sam Club Member?
Purchase a 1-year membership for just
$27 & enjoy all the exciting Club benefits,
including 50% savings on up to
2 RV show tickets!
SAVE TIME - PURCHASE YOUR TICKETS ONLINE!
Greater Atlanta RV Show
The Greater Atlanta RV Show is Back
and is Bigger & Better than Ever!
This is Your Best Opportunity
To Buy an RV

PLEASE NOTE
THE SHOW IS IN BUILDING A
(not Building C)
This is THE show for RV Enthusiasts! The area's major RV Dealers will display a huge variety of motorhomes, travel trailers, fifth wheels and more....all at show special prices! This show is the "go-to place" to begin planning your camping vacations for the coming season, trading up to your dream RV, seeing the new 2016 RVs, or just learning about the joys of travel in a recreational vehicle!
New RVers or those old hands at traveling the RV high road will discover this is the ideal show to learn about new RV products, campgrounds, travel destinations and the RV lifestyle.
Check out everything from luxurious high-line motor homes to folding campers, travel trailers to fifth wheels, Class C motor homes to camper vans and everything in between. You can also visit with the regions highest rated campgrounds to plan your family's 2016 RV travel.
Are you setting your sights on traveling this upcoming season or are you planning on finding a nice place to settle in for the summer? Whatever you're plans are you'll find top-notch family camping resorts at the show.

---
Purchase your parking ticket online and save time and money! Rates will increase on Saturday after 11:00 a.m. Visit Georgia World Congress Center

---
Pet Policy: Due to facility regulations, only service animals will be permitted inside the show venue. Thank you for your cooperation.
---
DUE TO UNFORESEEN CIRCUMSTANCES, BOB LIVINGSTON WILL NOT BE AT THE ATLANTA SHOW; HOWEVER WE ARE PLEASED TO HAVE BERNIE JWASZEWSKI AS THE FEATURED SEMINAR SPEAKER. BERNIE IS AN AVID RV ENTHUSIAST WHO HAS TRAVELED THE COUNTRY AND WILL SHARE HIS TRAVEL EXPERIENCES WITH YOU!
Seminar Schedule
Location: Seminar Stage
***SCHEDULE SUBJECT TO CHANGE***
Time:
Topic
Guest Speaker
Friday, March 4, 2016
Show Hours: 12:00pm-8:00pm
2:00pm
Graveyard of the Atlantic; North Carolina's Outer Banks
Bernie Jwaszewski
Streamline Travel Videos
4:00pm
Make RV Play Pay
Bernie Jwaszewski
Streamline Travel Videos
6:00pm
Drive the Going To The Sun Road – Glacier National Park
Bernie Jwaszewski
Streamline Travel Videos
Saturday, March 5, 2016
Show Hours: 10:00am-7:00pm
11:00am
Make RV Play Pay
Bernie Jwaszewski
Streamline Travel Videos
1:00pm
Drive the Going To The Sun Road – Glacier National Park
Bernie Jwaszewski
Streamline Travel Videos
3:00pm
Graveyard of the Atlantic; North Carolina's Outer Banks
Bernie Jwaszewski
Streamline Travel Videos
5:00pm
Make RV Play Pay
Bernie Jwaszewski
Streamline Travel Videos
Sunday, March 6, 2016
Show Hours: 11:00am-5:00pm
1:00pm
Make RV Play Pay
Bernie Jwaszewski
Streamline Travel Videos
3:00pm
Graveyard of the Atlantic; North Carolina's Outer Banks
Bernie Jwaszewski
Streamline Travel Videos